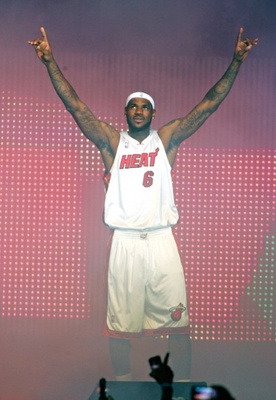 "King of the castle...king of the castle." I wonder if LeBron will walk in to his sprawling new mansion in Miami and say the same phrase made famous in the movie "Borat."
LeBron has begun paperwork on buying the most expensive mansion in Coral Gables, Florida. Several years ago Pat Riley called it home and he may have advised James to take a look at it.
The estate, located on 11 Casuarina Concourse, is being sold by auto dealership owner Alan Potamkin.
Built in 2000, the two story, 20,862 square foot home contains eight bedrooms, 11 full baths, and sits on a 3.6-acre property in Gables Estates.
James' new home will offer much more privacy than the mansions he could have selected on or near Miami Beach. It is surrounded by 880 feet of waterfront and has a perfect view of Biscayne Bay and the Miami skyline.
Amenities include a 150-ft. dock, a lighted tennis court, and an adjacent private guest suite.
There is also an "elevator, bar, master suite with a full gym, a billiard and media room, and a four or more car garage."
"In addition to these particulars, there is Lutron lighting and a 12-camera security system throughout the estate."
Needless to say MTV may want to consider bringing back the show "MTV Cribs" in order to give people a tour of LeBron's new humble abode.
LeBron's New Home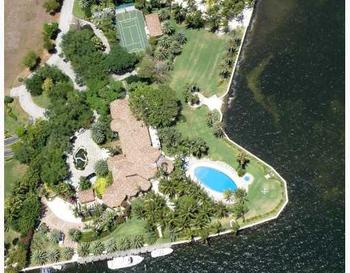 A bird's-eye view of the property shows just how grand it truly is.
Poolside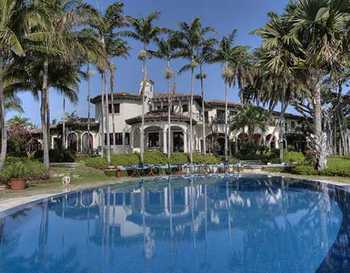 Imagine kicking back by the pool.
View of Miami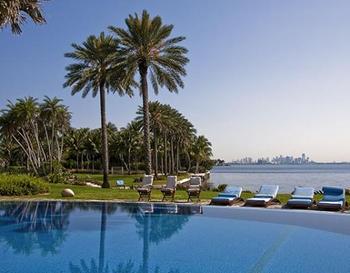 The property offers an unobstructed view of the Miami skyline. James would have the option of getting to games either by car or boat. Since American Airlines Arena has a dock, this is a nice luxury in order to avoid any rush hour traffic.
Tennis/Basketball Courts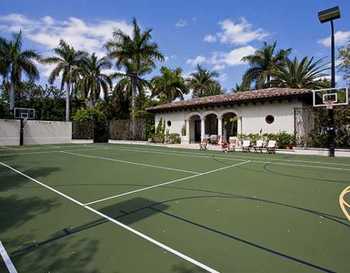 The guest house and tennis court sits on an acre of property by itself. Get the feeling LeBron is going to turn this into an exclusive basketball court?
Anyone down for a pick-up game?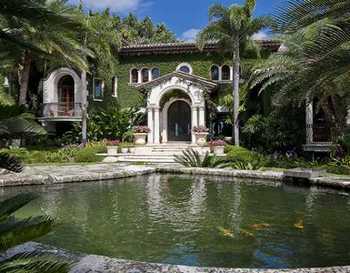 The front yard of the house has its own small pond. One of the best features is the landscaping work that has been put in. Potamkin even spent over a quarter of a million dollars to have one tree barged in and planted on the property.
James's Gym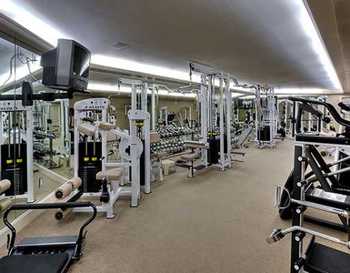 The gym will probably be remodeled. Either way LeBron will be able to sneak in a quick workout any time of day thanks to the full gym that is just steps away from his bedroom.
Formal Room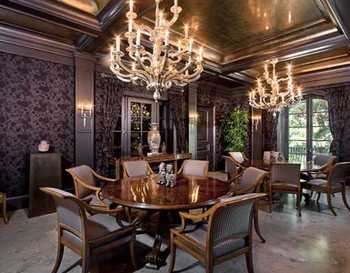 The summit didn't happen in this room, but LeBron will probably be conducting some business meetings from here. Well that or some really high-stakes poker matches.
King's Kitchen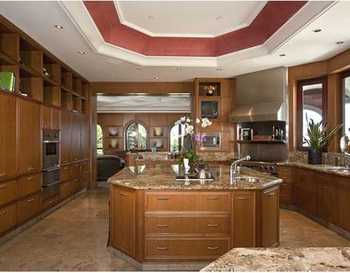 This is a view of the marble floors and countertops in the kitchen.
Feel the Ocean Breeze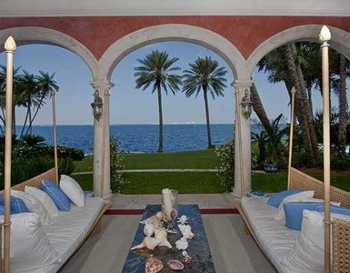 You can almost envision this very scene at night with some music blasting and a few lovely ladies dancing. It'd be nice to get an invite to such a party. They just need to paint over the pink wall and change the throw pillows and couches to a darker color.